You can now invest in dozens on Seedrs.
Visit the full campaign now to avoid missing out.
Watch this video to learn more about dozens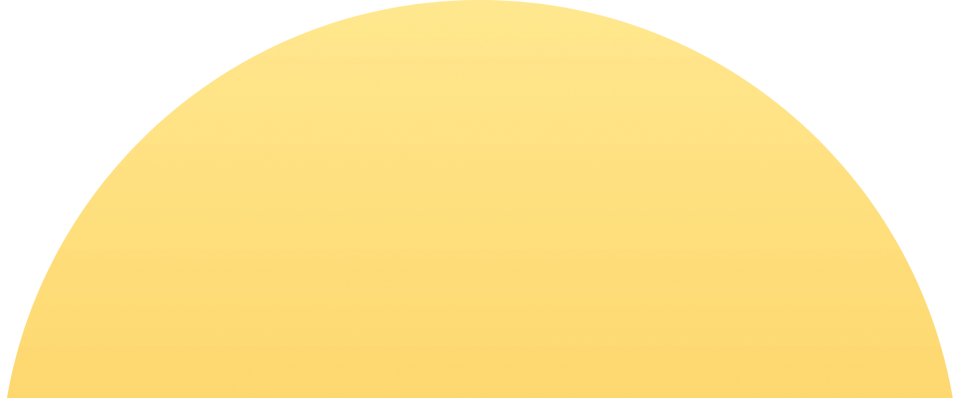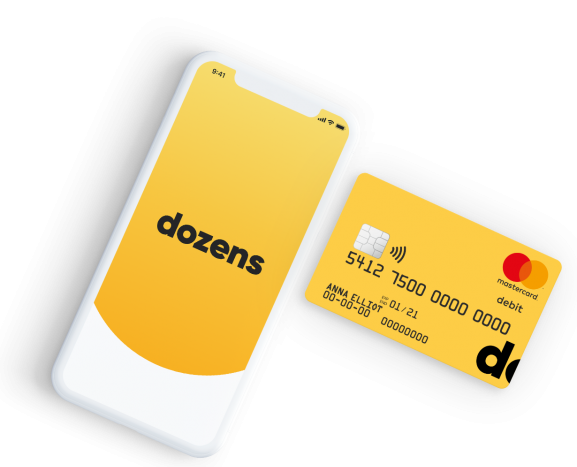 dozens is the new home for your money
See where and how you spend, by size, category and location. All explained visually to make things simple.
Take control with budgeting that adapts to you, and tells you everyday how much you can spend the next day.
Invest within the same app.
The portfolios are based on themes and world views to make choosing easier.

Automatically and effortlessly, with cash awards to keep you motivated. Also, a bond with a fixed 5% p.a. interest on your savings.
A one-stop-app for all of your financial health needs.
Check out our demo of the app, highlighting the key features
It brings together a current account, a smart budgeting tool and an investment manager in one app, along with cash rewards for good financial behaviour.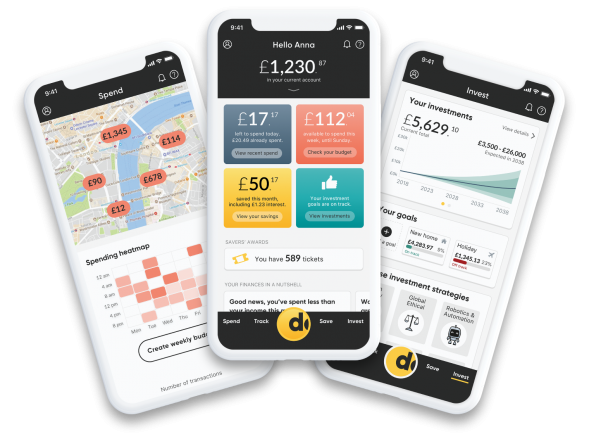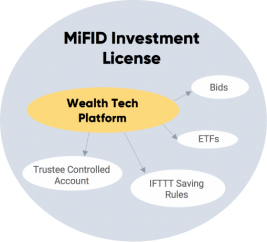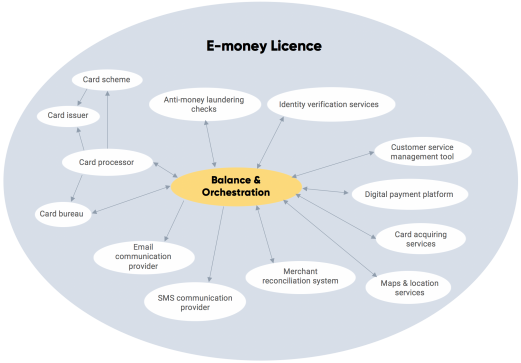 dozens is built on diversity
We are 80% female with different levels of education.
We are 23 employees from 8 countries.
We bring years of experience from a variety of industries and sectors.
We all have different experiences of money, and each have our own story to tell.
dozens is built by our community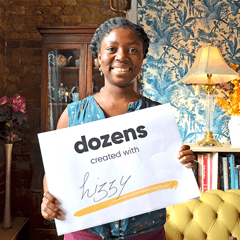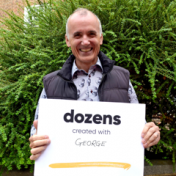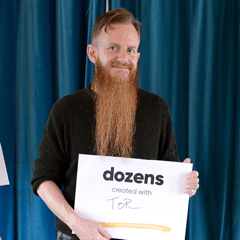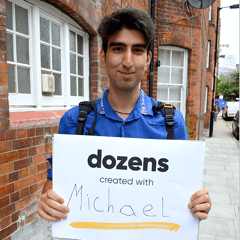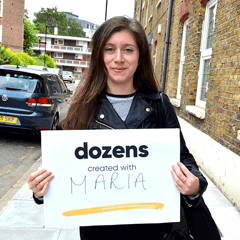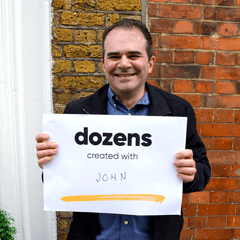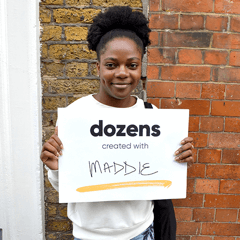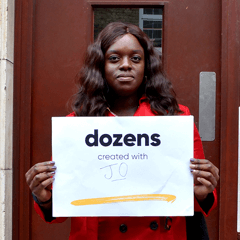 Check out what happened on the day we unveiled the app to them
A community of over 300 people from across the UK helped make dozens what it is today. They shared their experiences of money and thoughts on our ideas. They guided us and kept us honest. They will continue to shape dozens in the future.
dozens puts the fin back into fintech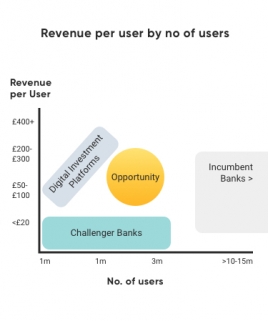 Fintech is a crowded market. Mobile challenger banks have broken the one million customer barrier. Yet with 73 million current accounts, most UK consumers remain untouched. Plus with low average balances, challenger banks are finding wallet share and profitability remain elusive. On the other hand, P2P lending platforms and online investment firms are struggling to break into the mass market.
dozens aims to fill this gap by offering an integrated current and investment account, that takes the transparency, technology and customer experience levels set by our competitors as hygiene, and instead focuses on balance sheet innovation providing access to high return financial products. By monetising returns, we ensure our interests are aligned with the user's – we only make money when our customers do.
At dozens we are always thinking about two types of people. Those on the 'Spender to Saver' journey – people who struggle to budget and save and for whom we've designed unique in-app tools to improve financial capability. And those on the 'Saver to Investor' journey – people who already have a chunk of savings and are looking for the best options for their money. In the UK, people aged 45-64 hold 44% of the nation's wealth, yet digital capability drops below 50% (see graph). To address this dozens are also working on new ways of offline banking and investing for those digitally less able.
dozens founding investors can receive special perks
We'll host regular events for our community, including an AGM, and quarterly drinks, to ensure investor voices are heard.
Investors will receive a debit card that stands out, designed especially for our investors by our in-house creative team.
Early investors will receive exclusive access to some of our first ever 5% bonds, meaning they can be the first to put their money to work.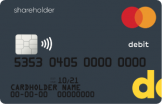 Please note: Investor perks will be provided to investors once the investment has been confirmed. At the moment, dozens is only available to UK customers, and as a result, the investor perks will be too. If you're not currently eligible for investor perks, we hope you'll consider joining us on our journey anyway!

Investing involves risks, including loss of capital, liquidity, lack of dividends and dilution, and should be done only as part of a diversified portfolio. This form has been approved as a financial promotion by Seedrs Limited, which is authorised and regulated by the Financial Conduct Authority. By completing this form you are agreeing to comply with and be bound by our Terms of Service, which together with our Privacy Policy, govern Seedrs's relationship with you in relation to your use of the Website.
Wondering about protection?
Project Imagine is authorised by the Financial Conduct Authority (FCA) as an e-money institution (FRN 900894) and also as an investment firm (FRN 814281). This means we can offer a range of financial products, which each have different levels of protection.
Current account
Your current account money held in the Spend section of the app will be securely held in segregated client accounts at a UK high street bank in accordance with the FCA requirements and the Electronic Money Regulations 2011, which means that dozens has no access to your money for its own purposes.
Cash savings
Separately your cash savings (excluding any bonds) of up to £85,000 held in the Save section of the app are covered by the Financial Services Compensation Scheme (FSCS).
5% fixed interest bonds
The interest offered by our fixed interest bonds, in the Save section of the app, will not fluctuate even in different market conditions. However we understand that you will still need to be comfortable that as a new company, dozens will be able to meet its financial commitments. Because of this, and to help build your trust in us we will place all of your money to be invested plus the full 12-months interest, in a separate trustee-controlled account on your behalf. This would be used to pay you in the event of any default on our part. The bond programme currently has a maximum limit of £7m, with expected issuance volumes of between £100k-£1m a month. For individual limits please check our website.
Investments
When putting money into any investment products, there are two main factors for you to consider – whether the company you made the investment with can meet its financial commitments, and whether the investments you made will fluctuate in different market conditions.
When investing in a strategy through the Invest section of the app, your investment is exposed to fluctuations in the market, which means that the value of your investment may go up as well as down.
One final point
For both the fixed interest bonds or our strategies you are covered by the Financial Services Compensation Scheme for up to £50,000 for our misselling or default. dozens does not give financial advice, you should speak to an expert if you are unsure about investing.